CAWIbot: a chatbot for mobile and conversational surveys
Your targets spend several hours a day in front of their smartphone: that's where you need to conduct your research!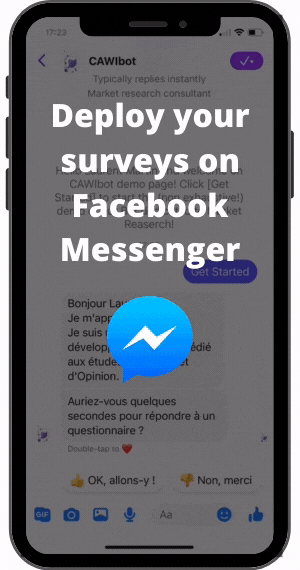 CAWIbot is a chatbot dedicated to the Market Research industry, for both Brands and Research Companies.
Available on Facebook Messenger and WhatsApp, in web and mobile formats, or by SMS, CAWIbot is a particularly innovative solution for :
interacting with a brand's audience: customers, prospects, "likers", "followers", …
recruit via social networks: online communities, panels, …
collect all types of data (quantitative / qualitative), in all languages, from targets that are difficult to reach through the usual channels (email, telephone, face-to-face): Generation Z, populations that are mainly mobile, …
to offer a modern and ergonomic alternative to consumer diaries, experience records, etc.
Fluid and engaging experience
With CAWIbot, respondants no longer feel like they are filling in a questionnaire but like they are conducting a conversation.
The chatbot allows you to collect data without any particular effort on the part of the respondent.
The user experience is fluid, playful and, above all, it is a medium that is designed from the outset for mobile use.
The result: boosted engagement rates.
Response rates for chatbot surveys are 40% higher than those of other types of surveys! (source: Survey Sparrow)
And you get most of your answers within the first few hours after the deployment of the survey.
Once the conversation has started, CAWIbot allows you to extend it for several days: you can still send messages to your contacts : for example, in the case of a longitudinal study or a cohort, or if you need to split a particularly long survey.
Rapid and seamless deployment
CAWIbot is a lightweight tool, quick to implement and natively integrated into the digital ecosystem.
Add a line of code to your site, and launch a "push" survey among your site visitors (web or mobile).
Engage your customers by SMS to measure their satisfaction on the spot (particularly suitable for measuring customer relationship: CSAT, NPS, CES, …).
Integrate a survey into your campaigns on the Web (Google Ads, …) and social networks (Facebook, WhatsApp, Instagram, …).
Multi-platform and multi-channel
You will find below the demo links to the different versions already available.
Do you want to deploy chatbot questionnaires on other platforms (WeChat, Slack, …)? Do not hesitate to contact us for this!
Facebook Messenger survey chatbot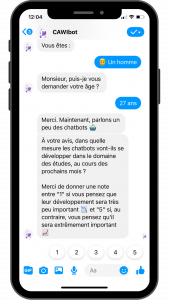 With the Messenger version, you can easily launch a conversational and mobile-first survey among visitors to your website or Facebook page.
You benefit from the powerful targeting tools offered by Facebook and Instagram to launch an advertising campaign aimed at collecting data from a specific audience.
You can also use CAWIbot to measure customer satisfaction following an interaction with your customer service department on Messenger.

WhatsApp is used by 1.5 billion users in 180 countries. In some countries (particularly in Africa), it is the leading channel for Internet access, long before the Web.
Deploying a questionnaire via WhatsApp is a very powerful way to reach a variety of populations, including in countries with low levels of computer equipment and sometimes poor Internet connections.
An innovative tool for recruiting qualified panelists or prospects!

Custom Web and mobile survey chatbot
If you do not wish to use a proprietary platform, we can deploy CAWIbot in the standard web format :
either directly embedded in your website, like support chatbots that you usually open by clicking on an icon at the bottom right of the page,
or on mobile by sending a link by SMS or email, or via the flash of a QR Code.
The CAWIbot module then integrates perfectly into your site, in accordance with your graphic charter.
Test CAWIbot custom web version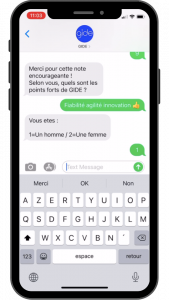 CAWIbot can also be easily deployed via SMS. The interview is then carried out entirely via SMS exchange:
you send a first introductory SMS that includes the first question,
your contact sends his reply by replying to your SMS,
CAWIbot sends the second question by SMS to which the contact will answer again by SMS, and so on until the end of the interview.
Quick to deploy, SMS questionnaires are particularly suitable for short studies such as Net Promoter Score (NPS), Customer Effort Score (CES) or Customer Satisfaction (CSAT).
Powered by GIDE!
Adopting CAWIbot also means ensuring reliable and efficient data collection!
CAWIbot was not developed in opportunistic mode to surf the wave of chatbots: this GIDE development is based on our experience of more than 20 years in online data collection. And the GIDE label counts!
CAWIbot questionnaires are programmed by our teams, based on your specifications, using the SCROLL platform that we have developed and that we use every day to deploy the CAWI, CATI, CAPI surveys that our clients entrust to us.
Depending on the constraints specific to each platform (Facebook Messenger, WhatsApp or SMS), you can therefore collect all types of questions (single/multiple choice, text, numerical values) and media (emoji, photos, sound, videos, etc.), include filters or even take quotas into account, as in a classic web survey.
CAWIbot surveys can be deployed in addition to the other modes of data collection we offer, and the data collected via CAWIbot follow the same process as those of these other channels:
the data is collected and processed securely and in full compliance with the RGPD,
you can follow the progress of your CAWIbot survey via a secure online portal: connection statistics, flat sorting, quotas, data export, …
the data can be exported in all the usual formats (CSV, Excel, Triple-S, SPSS, IBM Data Collection / Unicom Intelligence, Quantum, …) or directly to your CRM, BI platform, …
The results of your CAWIbot study can be calculated and put online thanks to the different reporting / dataviz solutions we offer.
Do you want to know more, or even make a first test with CAWIbot? Then contact us!