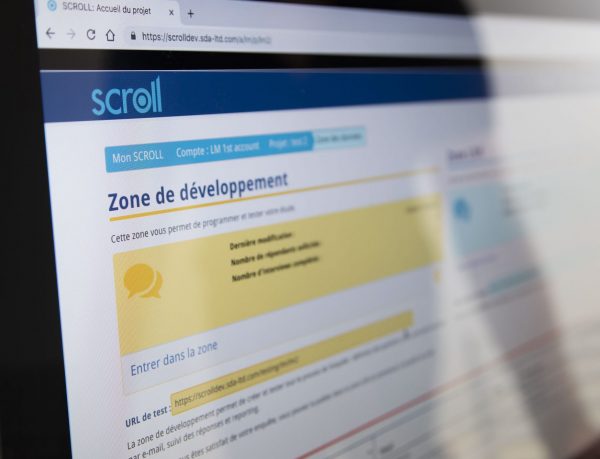 Innovative solutions for market research, opinion polls and social research
We can offer the solution best suited to your needs, no matter their complexity. Our SCROLL framework, enriched by our 20+ years of experience, is packed full of features for survey development and management allowing us to provide bespoke tools to meet your specification and particular requirements.
Data collection
Data collection is the most crucial phase of a survey project. Use our expertise to help you design engaging questionnaires, distribute them through the most effective channels and customise them for your target groups, research needs and budget.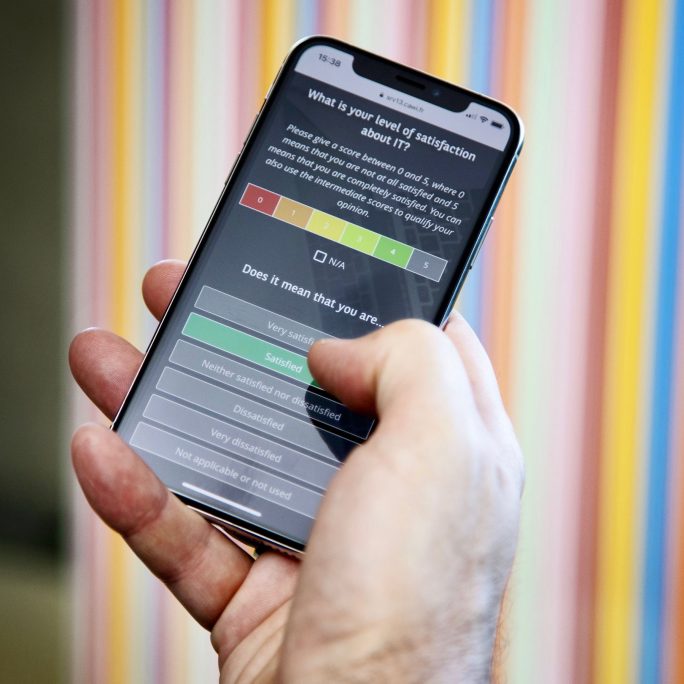 Engaging questionnaires
Give us your questionnaire and we will exceed your expectations: whatever the length, the complexity or the number of languages (including right to left) to be offered. We deal with complexity using a complete ergonomic approach to design. We offer UX/UI design expertise and gamification to make questionnaires more engaging, leading to increased response rates.   
Multichannel delivery
Your target groups use a variety of digital channels such as web, mobile, emails, SMS etc. So your survey must accommodate mobile audiences.  
Our SCROLL framework enables us to distribute the same questionnaire through different media while centralising  data collection and maintaining transparency. 
We specialise in web (CAWI), face to face (CAPI), telephone (CATI) surveys as well as in more innovative channels: SMS, chatbot, instant messengers, interactive tools inside websites or applications etc.  
Cross-industry expertise
With over 20 years of experience across a variety of public and industry sectors we are able to cover a range of survey topics and methodologies.
We can set up questionnaires suited to different contexts (customer satisfaction/NPS/CES, patient report forms, consumption diaries, CBC trade-off analysis, virtual shopping). We can manage different research methodologies including quantitative, qualitative, tracking and ad hoc. 
We offer advanced technological solutions customised for different needs. You can rely on our expertise and support at all stages.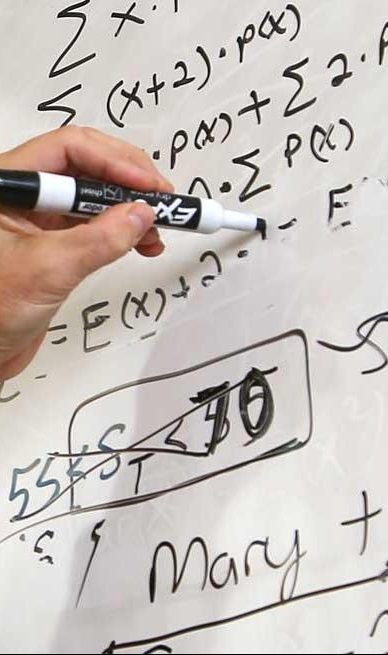 Data processing and analysis
Collected data need to be given meaning. Big data, verbatims, hybrid data or non-structured data: our team of analysts and statisticians will make your data tell a story!
Data processing
Whatever the source, the format or the structure of the data, we can apply the appropriate treatment to help you extract the key insights. 
We can even retrieve data from your information system and reinject them into your BI or CRM tools.
Heterogenous and non-structured data are our speciality. We can develop and automate processes to reduce delivery time and improve reliability.
Statistical analysis
Our team includes experienced analysts and statisticians.
We can support you in researching, identifying and applying the most suitable analytic methods for your data.
We can apply a variety of statistical methodologies, from the most common to the most specialised. For their application we utilise open source tools and languages, most commonly R.
Reporting and data visualisation
Data and  results must be shared with decision makers. We can help you to integrate your survey results into your intranet or  design a bespoke dashboard.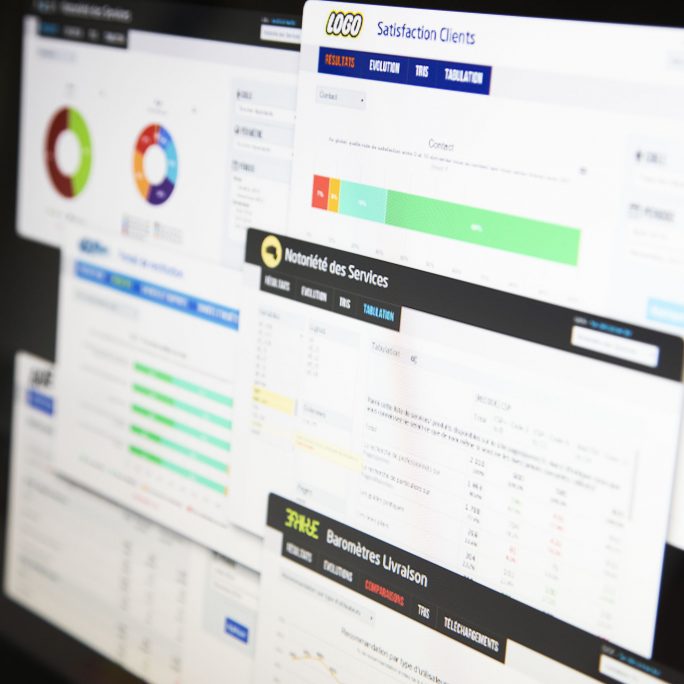 Automation
By limiting manual interventions and setting up automatic data flows, we will help you improve productivity, reliability and timeliness. We can also set up connections with your own information systems, for example your CRM, to enrich the collected data. 
Interactivity
Reports have to be online, easy to share and interactive. That's why we have developed online reporting tools that allow you to assume ownership of your data and share them easily. 
You will benefit from tailored dashboards, integrating interactive tables and dataviz, allowing  you to manipulate and explore your data. If needed, we will automate the production of your reports through Excel or Powerpoint.
Customised
With Gide, you ambitions are not constrained  by the limitations of an off-the-shelf tool. The content and the form of your reports and your dashboard will match your needs and conform with your brand identity.
Your dashboards can be enriched by external data and by bespoke functionalities.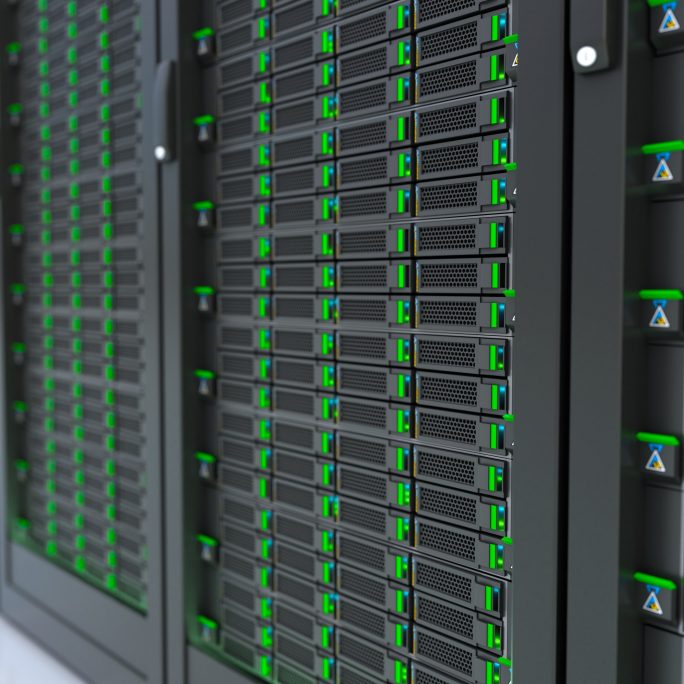 Hosting and Security
Hosting
We provide our customers with a fully controlled and dedicated hosting service, on servers located in France and managed by our teams.
We ensure availability 24 hours a day, 7 days a week. You can sleep soundly, we take care of everything: deployment, backup, security!
If your project requires it, we are able to deploy our solutions on your own servers, on third-party servers (in UK, France, Russia, China) or on a cloud infrastructure (AWS, Azure).
GDPR and security
We are very serious about security, and adhere strictly to all the requirements of the GDPR. In addition, our teams are committed to respecting the ESOMAR Code of Ethics.  All project data is treated as highly confidential.   
Our infrastructures are continuously monitored and secured against all types of intrusion, physical or systemic. We have put in place good practices to defend against any hacking attempt, and also to prevent  the intervention of robots that could impact on the quality of the data collected in your survey.