In the field of qualitative research, there are several techniques for collecting information, some more complex and expensive than others. An online group meeting, or online focus group, brings together a small group of people (your target customers, for example) in a virtual room to talk about a subject/product/campaign to record and study their reactions/interactions. Online methods reduce cost and provide fast results. The objective is to gather insights from the group in order to quickly identify drawbacks, positives and  potential improvements to the object of the focus group. More generally, qualitative studies by focus group generate diagnostics (in-depth understanding), forecasts (collected insights to provide a basis for decision making) and creativity (to identify innovations ).
Focus groups can be used for a wide range purposes
What can be evaluated with an online focus group study? User experience, software & website testing, response to images, communication campaigns, pre-tests (YouTube videos, sponsored publications on Social Networks). Anything that can presented digitally can be the object of a focus group online! Below is a list of applications to give an idea of the diversity of uses:
Advertising campaigns tests (pictures, posts, videos, …)
Website tests (ergonomics, design, functionality)
Online games and entertainment tests
Search for ideas and innovations
Secure brainstorming
Identifying area of improvement (generate ideas, uncover any dissatisfaction)
Research obstacles and motivations (branding, marketing engagement)
Practice and attitude in response to a situation
Capture feedback/validate ideas
Marketing workshop activities (integration of online questionnaires – or "CAWI" – at the end of the workshop -> evaluating the quality of the workshop)
Mooc (integration of CAWI questionnaires -> evaluating training courses)
SAV
Depending on the focus group platform you use, some or all of the above applications may be implemented.
Who to include in the online focus groups?
Members of a community, prospects or clients, your Facebook fans, your followers on Instagram / Twitter or a group of people that interest you may be assembled in a focus group panel. It is now relatively easy for marketers or even Community Managers to define a target population and mobilise it quickly to research a given topic. Will you compensate participants? There is no obligation. Depending on the degree of appreciation that a consumer has on your brand, he/she will participate in the focus with pleasure and without the need for anything in return; if you are unable to recruit the target population, you can consider monetary compensation or offer a prize. Focus groups can also be of interest to Human Resources departments, where  online and internal focus groups have advantages : an anonymous virtual focus group can be arranged to encourage staff to speak more freely about any organisational issues in a company.
How do you organise an online focus group?
The meeting uses a website that looks like an advanced Chat platform. A simple link to the online focus is sent to the participant by email, SMS, or instant messaging (Whats'app, Messenger, …). Users only need to connect via the link and choose a username. The moderator (or researcher) then welcomes each participant in the virtual waiting room and takes over the running of the group. They will have previously prepared the group materials  (presentation order of  media such as a photos, websites, videos), thought about the context and the direction of the discussion (drafting a discussion guide and inputting questions to ask). The moderator/researcher starts the prompts the discussion to stimulate exchanges in a semi-directive manner. When a specific topic involving several members is detected, a sub group may be moved  to a parallel room in order to develop ideas.
The sponsors of the focus group will also be able to connect to the platform and observe all exchanges without being "seen" by the participants (as if they were behind a two-way mirror, as part of a "real" group meeting). To avoid bias, the sponsors have the opportunity to communicate with the moderator but without intervening in the debate.
An "online focus group" is usually made up of 6 to 12 people, to provide a large enough number to facilitate discussion capable of generating a dynamic interaction that produces quality verbatim responses. The minimum (6) and maximum (12) is supported by the fact that too few participants may not generate enough ideas and that too many creates a distraction and encourages sub groups to form.
Advantage of online focus groups with GIDE
Technological flexibility to serve research needs! Online focus groups offer a 30% saving compared with focus groups where meeting at a real location can prove difficult for the participants. The time saved by convening the group using an online platform helps to focus  the study on the main objectives and not on its organisation. Thanks to the development of online platforms and the relative ease with which a target group can be recruited, companies and start-ups of modest size can afford to organise in-house focus groups with the assistance of Research Institutes. You can rent a fully SaaS platform and have autonomy straight away and you can also ask for advice. This is what we offer at Gide.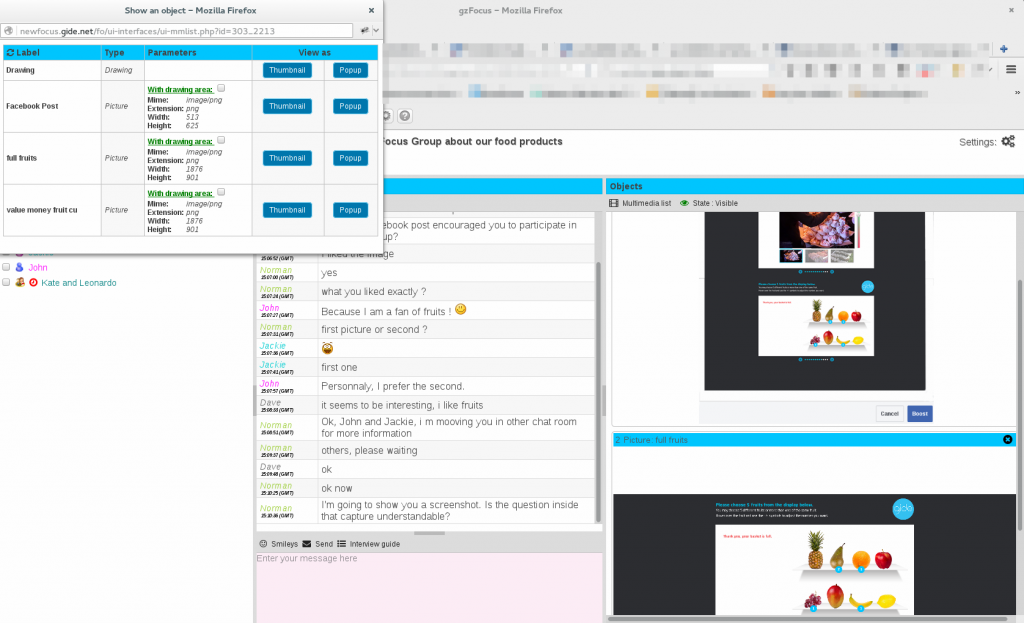 How long does a focus group last?
Focus groups are usually organised in sessions of about 1h 30′ each.
Example of a focus group : Facebook Post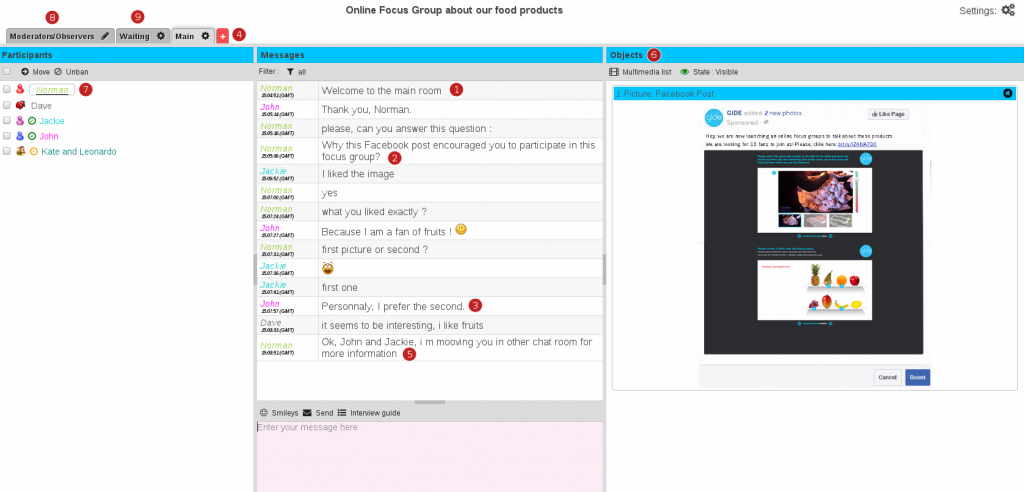 Background : you would like your Facebook community to participate in a Focus Group. You even pay for an advert to be the most visible in the news. First determine what motivated those fans who willingly participated in the Focus. You can subsequently identify what types of images or messages to prioritise over other paid adverts, or be sure that your next questionnaire will engage a significant number of people.
.
Here the moderator guides the conversation towards the appeal of the Facebook post. He asks an open question. John and Jackie do not seem to agree on what is most appealing. He then, in this fictional example, moves John and Jackie to a dedicated room to take advantage of that exchange of views without disrupting the conversation in the main room. Observers (representatives of the company conducting the study) will also be able to follow the discussion in the new room and interact with the moderator to express interest or not of the exchange of views or a person of particular interest. The moderator clicks on a name or avatar from the list to the left of the person that interests him. Within seconds, he can interact through several options.
Our platform provides several rooms where the moderator is able to move the participants from the common room to a private room where participants will meet subgroups.
So when interactions occur between a few people and the moderator believes there is a need, he can instantly create new chat rooms devoted to the subgroup that interacted. The host sends them to a new room to further refine the ideas and generate new insights. This confirms the usefulness of being able to open a variety of rooms dedicated to the work/discussions that will generate new ideas and will avoid "polluting" the general discussion. Ethnographic devices can complete the system (video conference, faces filmed by webcam).
VERBATIM
The extraction of Verbatim is essential for analysing a focus group. It will classify, index and summarise a vast amount of information.
ADMIN
In the administrative area of a focus group you can  manage your participants, share the access links, add moderators or observers, enter questions in advance, add a  questionnaire, forward a website or, even a video to the participants.

Bias reduced
The behaviour of participants in a group (see the work of Kurt Lewin) may be biased because of personalities, for example a "leader", who monopolise the communication to the detriment of "followers" and shy people. These biases are considerably reduced in chat rooms where everyone can express themselves freely and where speaking is easier with the help of a trained moderator.
Therefore, these Chat platforms can prove to be a good solution for marketers who are concerned about having a qualitative study tool and at a lesser cost.
If you would like to test or hire our Web platform for online focus, find out the price and the features, do not hesitate to contact us.